Sokulu Food Services offers a wide corporate lunch catering menu. Create a beautiful and delicious menu for your next corporate lunch event. Cater to everyone's tastes and dietary requirements, while you impress your guests with a selection of fresh, seasonal and flavoursome foods.
We showcase ten of the best options for a corporate lunch, mixing contemporary and traditional elements, and a globally inspired menu. From a spicy Moroccan lamb tangine, to creamy veal tortellini, a healthy sushi platter to a petite South African gourmet burger, we have you covered. Make your next corporate lunch event a success with these inspiring dishes.
Sokulu Food Services is your Gauteng catering specialists. We have helped thousands of corporate clients have successful events with phenomenal food and exceptional service.
EAST MEETS WEST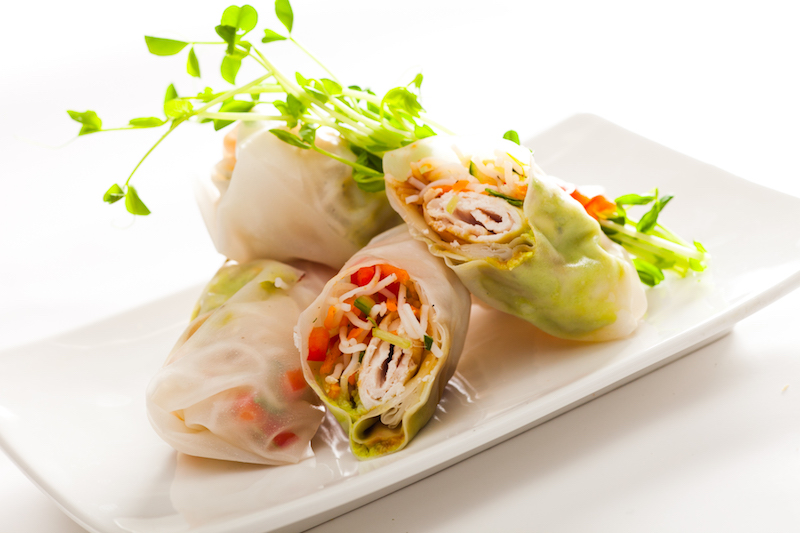 East meets west with Asian inspired dishes, mixed salads and South African gourmet pies. We've combined an eclectic range of colours, textures and flavours to give you the best the region has to offer. The Asian chicken salad has tender strips of chicken breast and a dressing made of aromatic coriander, mint, peanuts, coconut and tamarind.
For an extra lite and nutritious option choose Vietnamese rice paper rolls filled with thin slices of vegetable strips, chicken and served with a tasty dipping sauce. You can't go past a sushi platter as nearly everyone loves sushi and you can include vegetarian-friendly fillings such as avocado and cucumber. Honey sesame chicken lovely legs or petite chicken satay skewers are popular Asian inspired finger foods.
PASTA
Have you considered pasta dishes for your corporate lunch event? Veal tortellini with field mushroom sauce, beef or vegetable lasagne, are popular choices. With creamy sauces and tasty fillings, these traditional choices are crowd pleasingly good. Add cold pasta options to your menu including pesto chicken pasta salad or risoni with roast pumpkin, semi-dried tomato, baked Philly cheese and baby spinach.
MIX OF SALADS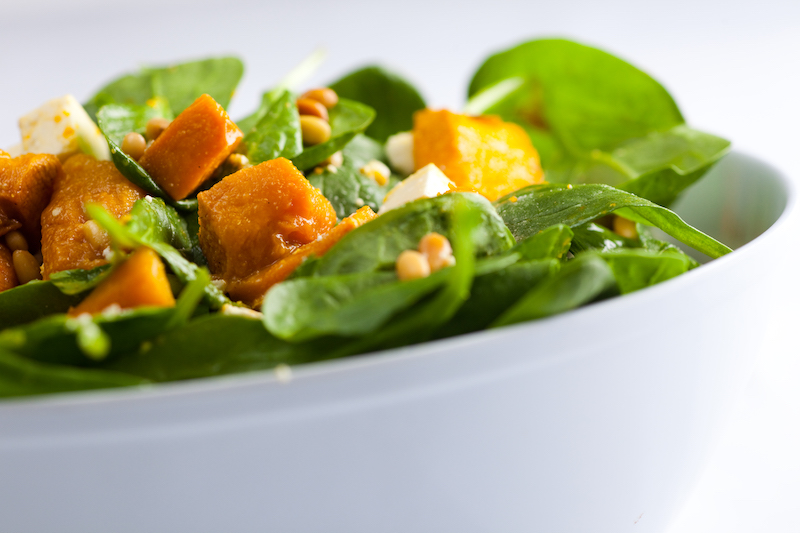 An array of colourful, fresh and nutritious salads is a must at any corporate lunch function. Start with traditional favourites like Greek, garden, creamy potato salad and a caesar salad. Then, add contemporary and colourful salads, like an Asian chicken or roast pumpkin salad. The beauty of a roast pumpkin salad is that it has a vibrant colour, sweet taste and soft texture, perfect for a salad topping.
Here are a few roast pumpkin salad options that your guests will love:
Chickpeas, fetta, sweet chilli and coriander dressing salad.
Baby spinach salad with roast pumpkin, pine nuts and fetta.
Risoni with roast pumpkin, semi-dried tomato, baked Philly cheese and baby spinach.
BURGERS
The traditional South African burger has had a makeover and has returned to the corporate lunch catering menu. Our petite South African meat burgers are easy to eat as they are cut into a size that fits into one hand. There's no messy beetroot or gigantic onion rings – just juicy, tender strips of meat, fresh salad and a carefully crafted toasted bun. Yum! A gourmet mini vegetable burger is an appetising alternative that is vegetarian-friendly.
MEDITERRANEAN
The Mediterranean diet is one of the world's healthiest diets and includes the goodness of vegetables, whole grains, fish and poultry.
Vegetables
A Greek salad has the health benefits of olive oil, salad vegetables and olives, while a platter of chargrilled vegetables is colourful and nutritious.
Seafood and poultry
Add seafood and poultry to your lunch banquet with an antipasto platter. With a mix of marinated vegetables, octopus, olives, fetta and cold cut meats, it has omega-3 fatty acids from olive oil and octopus. Chicken souvlaki skewers marinated in lemon and oregano adds skinless chicken breast to your menu.
Wholegrains
Quinoa is one of healthiest whole grains and we've mixed quinoa, Mediterranean vegetable, basil and fetta to create a nourishing, vegetarian salad option.
GOURMET PIES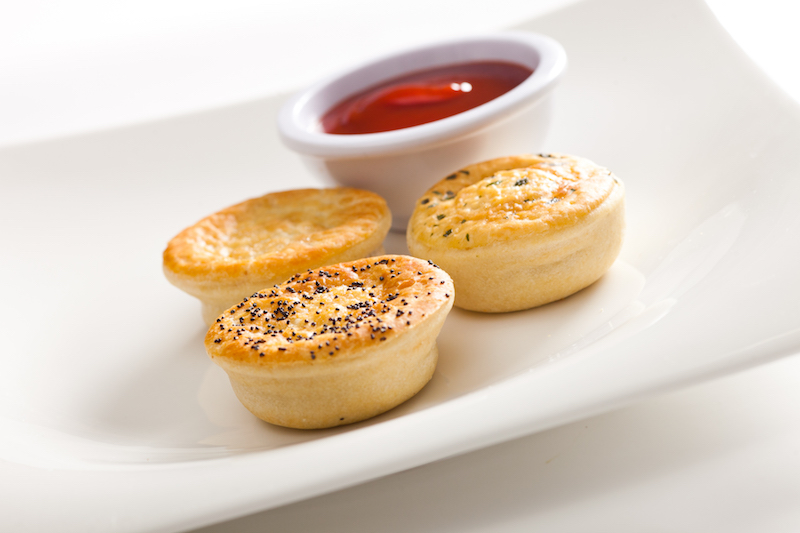 You'll be surprised at the diversity of flavours that come from mixing gourmet pies. A delicious pie can cater to different dietary requirements, including vegetarian and gluten-free while appealing to different tastebuds.
Here's an inspiring list of pies to include at your function:
Gourmet pies, lamb and rosemary.
Chicken and leek pie.
Spinach and goat's cheese pie.
Mini meat pies with tomato sauce.
Gluten-free mini pies.
CURRIES
Simple and hearty, a curry can add the flavours of the Orient or India to your menu. Two popular lunch curries include Thai chicken curry and lamb korma.
GOURMET SANDWICHES AND WRAPS
Gourmet sandwiches and wraps are the most popular options for a corporate lunch function. Sandwiches can be cut into halves and made into finger food. As your guests may be hungry by lunch, sandwiches and wraps will be more substantial and filling than canapes. A hearty and healthy lunch will give them the brain food they need to give you their full attention during your event's afternoon session.
Try a mix of healthy fillings including smoked salmon, chicken breast, rare roast beef and fresh salad options such as mixed lettuce and tomato. Then, add a nutritious mix of grained bread rolls, olive focaccia, bagels or traditional executive sandwiches for maximum flavour and visual appeal. Remember to choose a gluten-free bread option and vegetarian sandwiches. Gourmet sandwiches add the freshness of colourful and seasonal foods to your lunch menu.
VEGETARIAN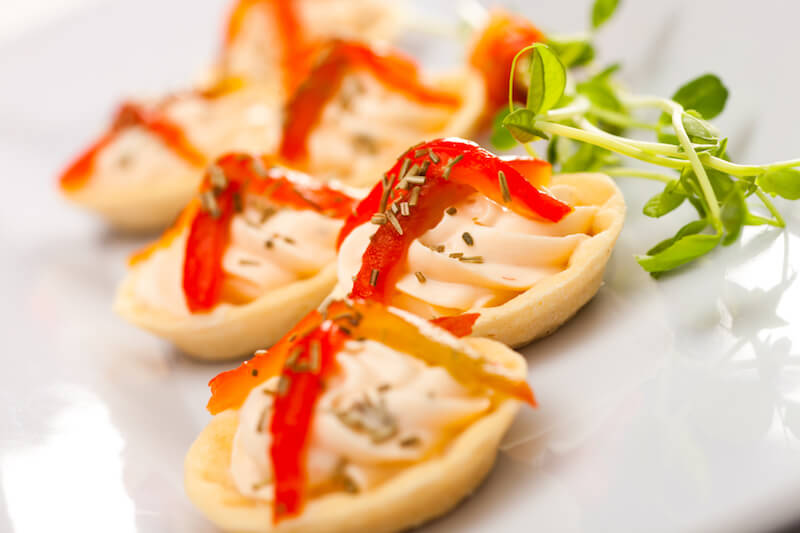 A creamy potato bake makes a rich and creamy side dish or a delicious vegetarian main meal. We offer you vegetarian platters and finger foods including:
Pine nut frittata.
Vegetarian quiche.
Vege parcels.
HOT MEAT DISHES
Your hot meat dishes should feature dishes from around the world. Try a rich and sumptuous beef stroganoff or a spicy Moroccan lamb with couscous. Traditional favourites include oven-roasted herbed
Traditional Spit Braai
Our traditional corporate spit braai stays in high demand. Succulent meat slowly roasted to perfection. The traditional spit braai offers value for money.
Our corporate lunch catering menu would allow you to treat your corporate guests on the latest trends and tastes. Leaving your guests impressed with your choice of food.